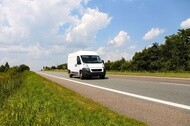 What are the best van tyres for your commercial vehicle?
Wondering how to choose the best van tyres for your commercial vehicle? Our article will help you figure it out and guide you in the selection process.
What is a commercial vehicle?
Before we begin, it is useful to define what exactly a commercial vehicle is. Unlike a passenger car (e.g. a car used for commuting and personal purposes), a commercial vehicle is designed to perform a specific function, usually in a professional context.
For example, it can be used to transport tools or products thanks to its storage capacity. This capacity varies from one commercial vehicle to another. There are, in fact, different sizes of commercial vehicles with different storage volumes. The commercial vehicles try to meet the different needs with storage spaces ranging from 3m3 to 30m3.
The 3 types of commercial vehicles
Below we list the 3 main categories of commercial vehicles. This will allow you to identify which category yours belongs to.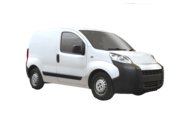 Small Van
The small van is the smallest version of a commercial vehicle and the one that most closely resembles a passenger vehicle. This is simply because it is a passenger vehicle that has been transformed to make it more functional. No more doors and no more rear seats. Instead, there is a large trunk with about 3m3 of space.
Examples :
Renault Kangoo
Citroën Berlingo
Peugeot Partner
Mercedes Citan
Volkswagen Caddy
Fiat Torino
Fiat Doblo Cargo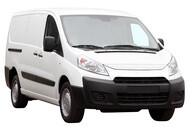 Medium Van
It may not be as agile in town as a van, but the medium van has the advantage of a much larger storage space. It therefore meets more demanding transport needs.

Examples :
Renault Traffic
Citroën Jumpy
Peugeot Expert
Mercedes Vito
Volkswagen Transporter
Fiat Scudo
Fiat Talento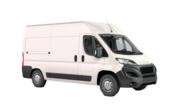 Large Van
This is the largest size of commercial vehicle. A large van can store up to 20m3 of equipment or parcels.

Examples :
Renault Master
Citroën Jumper
Peugeot Boxer
Mercedes Sprinter
Volkswagen Crafter
Fiat Ducato
Ford Transit

Large vans are also customised for use in refrigerated transport, others to carry passengers.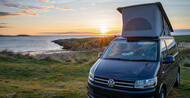 Van Lifers
There are also vans that have been fitted out for "van lifers" and others for service or maintenance.
As you can see, there are many uses and constraints and to ensure the best possible safety in all circumstances, your vans should be equipped with the right tyres.
Understanding tyre markings specific to commercial vehicles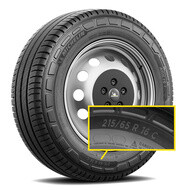 Each tyre is designed to carry a certain load. As this varies according to the vehicle, specific markings have been created to give a more accurate indication of the load capacity. We will explain them below:

XL (Extra Load) or REINF (Reinforced) on the sidewall of a tyre means that the load capacity has been increased compared to that of a passenger car tyre.
XL or REINF tyres may therefore be suitable for small vans.
Example of a dimension with XL marking: 215/65 R 16 102V XL

C or LT indicate van tyres with reinforced carcass, intended to support a higher load, i.e. with a load index up to 128, which means a maximum load of 1800 kg. This marking therefore concerns medium and large vans.
Example of a dimension with C marking: 215/65 R 16 C 109/107 T
Be careful not to confuse this with the CP marking which is not intended for commercial vehicles, but only for motorhomes.
How to choose the best van tyres for your commercial vehicle?
It is important to note that small vans may need passenger tyres, whereas larger commercial vehicles tend to need specific van tyres. Consult your user manual to understand which dimensions are approved by the vehicle manufacturer for your van. In any case, ​MICHELIN recommends tyres with "C" marking.
Then you can choose the most suitable tyres in these dimensions according to the criteria explained below:
What is your winter context?
Depending on whether you drive in a mild, cold or extreme winter environment, the choice of tyre will be different. You will need tyres that provide safe grip in all conditions to enable you to work safely.
We recommend that you consult the figure below to find the most suitable range for your climatic context in a few seconds: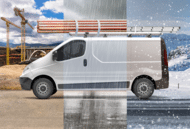 Why choose the MICHELIN Agilis range?
Our MICHELIN Agilis range has been designed specifically for the needs of commercial vehicles, fleet owners, craftsmen and shopkeepers.
Because we know that you need to focus on your business and your customers by providing the same service without worrying about the weather conditions you drive in. In short, we have created this range for your peace of mind.
You need reliable and safe tyres for you and your employees, even on wet or snowy roads.
With MICHELIN Agilis tyres, you can drive safely in all weathers and on all roads. It ensures good traction while offering you excellent longevity.
And while the Agilis range offers tyres designed for demanding professional needs, it is also suitable for van lifters who travel the roads in all seasons.