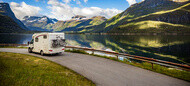 Which motorhome tyres should I use?
Whether you're looking for a casual getaway or you're a true "camper life" or "van life" enthusiast, you may be wondering which motorhome tyres you should use and how to manage your motorhome tyre pressure for safe driving. We'll take a look at all of this in this article. 

What type of motorhome do you have ?
The best tyres for your motorhome depend above all on the type of your vehicle. There are four main types : Van Conversion Motorhome, Conventional Coach Built Motorhome, Low Profile Coach Built Motorhome and A Class Motorhome. 
Why are CP tyres recommended for heavy motorhomes?
If your motorhome is a "Conventional Coach Built Motorhome", "Low Profile Coach Built Motorhome" or "A Class Motorhome" type, the performance of a C marked tyre may be insufficient. We recommend that you use CP marked tyres instead.
Why? Because CP marked tyres have been specifically designed for heavy motorhomes. These motorhome tyres have a higher load index and pressure as well as a reinforced carcass.
Why is a higher load capacity required for CP motorhome tyres?
Motorhomes are vehicles that generally have a large intrinsic mass (the vehicle itself and the interior equipment) to which is added that of your travel equipment (luggage, bicycles...)

In addition, motorhomes have a high centre of gravity, a sometimes large overhang (the parts of the body between an axle and the end of the vehicle) and an additional load that may be unevenly distributed. 

Uneven static load distribution (e.g. water tank)
Increased load at the rear (e.g. bicycle rack)
Load fluctuation due to centrifugal force and point of gravity (e.g. on a bend)
All this is a lot of pressure that all four tyres must be able to withstand over many kilometres. That is why tyres marked CP are better suited to this function than tyres marked C.

CP tyres are recommended by the ETRTO (European Tyre and Rim Technical Organisation) 

Since 2003, the ETRTO has recommended that tyres used on the type of Motorhomes described above should carry a CP marking apparent in the tyre size description, instead of the normal C marking found on van tyres.

Motorhome tyres with a CP marking, such as MICHELIN CrossClimate Camping, are developed according to the specific load characteristics of these vehicles, in line with the recommendations of ETRTO, to ensure that your vehicle is in the best possible condition for driving and safety.
There is another important point to ensure safety and vehicle stability: the tyres of your motorhome must be inflated to the correct pressure. Indeed, the volume and pressure of the air inside the motorhome tyres determine the load they are able to carry.

Motorhome tyres with a CP marking are designed to run at a higher pressure than the pressure for vans (C marking), which gives better handling and increased resistance to the load characteristics of large Motorhomes. 

For CP tyres fitted to Motorhomes, the ETRTO advises:
On the rear axle: the motorhome tyre pressure should be 5.5 bar (80 psi). The maximum load capacity of the tyre must be respected. (Note that the use of a metal clamp in valve or specific high pressure rubber valve is required above 4.5 bar (65 psi)),
On the front axle: refer to the manufacturer's inflation recommendations indicated on the vehicle and / or its handbook.

Don't forget that your motorhome tyre pressures should be checked and adjusted as necessary, monthly and before a long journey. 

What are the recommendations for prolonged motorhome parking? 
To maintain tyre condition and safety, before any prolonged period of parking: 
Ensure that tyres are correctly inflated to the recommended pressure. Absolutely avoid under-inflation, which would likely damage your motorhome tyres. 
As far as possible, protect your motorhome tyres from exposure to the sun because UV and heat are accelerating factors of premature tyre aging. 
Ideally, protect your motorhome tyres from contact with cold, damp floors by placing the vehicle on stands. 
Before use of the vehicle, check tyre condition and adjust tyre pressure appropriately. 
Which motorhome tyres are suitable for year-round use?
If you want to drive your motorhome all year round in safety and without seasonal constraints, the best type of tyre we can recommend is a 4-season tyre.

Our MICHELIN CrossClimate Camping tyre is an ideal choice as it is 3PMSF certified (3 Peak Mountain Snow Flake) and therefore offers you excellent performance in winter (down to 7°C below zero) on wet and snowy roads, as well as in summer on dry roads.

Its robust design and grip allow you to drive on grass, gravel, sand or mud without difficulty.

We have specially designed it to carry heavy loads, including the heaviest motorhomes. It is therefore CP marked and is an excellent choice for your motorhome.
Discover the CrossClimate Camping Tyre