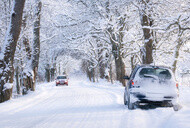 Snow chains: when to fit them, how to use them
During winter, driving conditions can be dangerous and unpredictable, with road surfaces ranging from dry, to wet, to snow-covered, to icy, sometimes in a single day. In situations where snow and ice have power over the road, snow chains are a common accessory. Here's a guide to when and how to use them.
When to put on snow chains?
1 - Put on snow chains when it is required by regulations
In certain places, particularly on mountainous roads and roads leading to ski resorts, there may be legislation requiring you to use snow chains or winter tyres. In some areas in Europe, this requirement is signalled by the official B26 road sign.
In most cases, however, this road sign is accompanied by another sign which states that snow tyres are acceptable.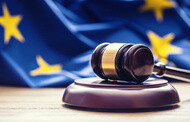 2 - Put on snow chains if you have summer tyres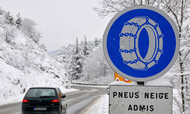 photo credits: Stéphane DUCLET
It is important to use snow chains when necessary or when indicated to do so by a snow chain sign, regardless of the tyres on your vehicle.
It is important to note that the use of chains comes with some restrictions:
Installing snow chains in cold weather, at night and on the side of the road is never a pleasant experience. As a result, many people tend to wait until the last minute to put them in place, by which point they have likely been driving in unsafe conditions with poor grip and traction for some time already.
In Europe it is not recommended to drive faster than 30mph with snow chains equipped. 
Additionally, for safety reasons and to avoid damaging the snow chains, it is necessary to remove them before driving on normal road surfaces.
To minimise the need to use snow chains, we recommend using tyres adapted to the conditions, such as winter or all season tyres.
3 - Put on snow chains if you have winter or all season tyres
Unlike summer tyres, winter and all season tyres are designed for driving in winter conditions. Their rubber remains flexible even in low temperatures and their deep grooves add grip on cold and wet ground, as well as in snow. Even with these tyres, however, snow chains can be useful when driving in extreme conditions as they increase grip on ice or snow.
Be sure to choose your fittings carefully. Winter tyres and all season tyres are better suited to composite or metal chains as snow socks deprive winter and all season tyres of their natural grip on the snow.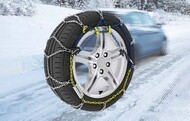 What is the difference between snow chains and snow socks?
The main difference is in the design: snow chains are added on top of the tyre tread, while snow socks completely cover the wheels. With snow chains, the grip is a result of the tyre and the chain working together. With snow socks, it is the fabric material of the sock that provides grip.
Performance of snow chains and snow socks
On hard pack snow, the 2 systems work about the same, whereas on fresh snow and black ice, chains are more effective. They are also more resistant and will deteriorate more slowly on roads that have been cleared of snow. Socks, however, are much easier and faster to put into place.
The different types of chains
Until the early 2000s, you could only find metallic chains on the market. For the past fifteen years or so, however, notably at the instigation of Michelin, new concepts of chains—such as socks (S.O.S Grip) and composite chains (Michelin Easy Grip)—have been developed for easier usage, particularly in terms of installation and continually improving performance.

To learn more about our line of snow chains, visit our dedicated website.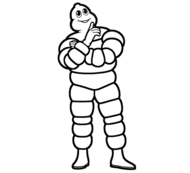 What is the legislation on snow chains in Europe?
Each European country has its own legislation regarding the use of snow chains.
These regulations specify the types of products that can be used (for example, in Germany and Austria, only metal chains can be used) and how and when they can be used. 
See our table below for the regulations in different European countries.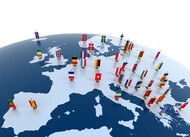 *subject to change. Please check the country's current regulations.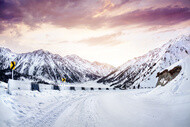 Can snow chains be attached to any vehicle?
Most vehicles can use classic or standard chains, but some vehicles require special chains. This is generally due to their having a smaller wheel well, which means that using standard chains can cause damage to the vehicle. If that is the case for you, you will have to use snow socks, composite chains or side chains.
Before choosing a product, you will need to know the model of your vehicle and the size of your tyres.
All vehicles, regardless of being front, rear or 4 wheel drive, must have snow chains fitted to all four tyres to maintain vehicle stability.