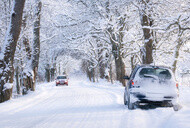 How to choose Winter Tyres
Are you looking to buy tyres for winter weather but don't know how to choose among all the many tyre offers out there? Whether you need winter tyres or all season tyres, Michelin is here to guide you in your decision!
Our tips for choosing the best winter tyres
As winter approaches, you may be wondering which winter tyres to choose. With all the many different models and lines available, there are some important things to keep in mind:
Unlike the M+S marking, the 3PMSF marking, which can be found on the sidewall, indicates that the tyres meet EU standards and have passed a standardised test, ensuring that you will be able to drive safely in winter weather conditions.
At temperatures below 7°C, it is essential to have tyres adapted to winter weather conditions. Before making a purchase, follow these tips to learn which tyres to use for your car depending on the kind of driving you do, the make and model of your vehicle and the tyre dimensions.
Tip #1:
Choose your winter tyres based on where you live and the kind of driving you usually do
If you live in a region that gets long, hard winters, MICHELIN recommends you use winter tyres.
The MICHELIN ALPIN line (for example the MICHELIN Pilot Alpin 5, MICHELIN Pilot Alpin 5 SUV, and MICHELIN Alpin 6 tyres) offers a safe, comfortable, and precise driving experience in even the most extreme winter weather conditions.
If you live in a place with variable weather and the occasional snowfall, the MICHELIN CrossClimate all-season tyres are probably the best choice for you. The MICHELIN CrossClimate line offers balanced performance that makes them good for summer and winter alike, with high levels of performance on snow.
If you live in an area with truly extreme winter conditions, MICHELIN recommends you use special winter tyres such as the Nordic MICHELIN X-ice or MICHELIN X-ice North 4 lines, with or without studs.
Do you want to learn more about the differences between winter tyres and all season tyres? Check out the following article: Winter tyres or 4 season tyres: how to choose.
Tip #2:
Check your tyre dimensions
In order to find the right winter or all season tyres for your vehicle, you must take your tyre measurements into account.
How do I find my tyre size?
Your tyre dimensions include a few different pieces of information:
width,
height,
diameter,
load index,
speed rating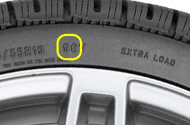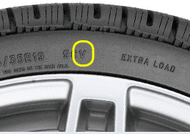 Here is how to understand these elements:
225: Tyre nominal section width in mm. This is roughly the width of the tyre tread. 
45: aspect ratio, in percentage form, of the height of the tyre to the width of the tyre. In this example, 45 indicates the height of the tyre and is equal to 45% of the width.
R or ZR: radial structure
17: nominal rim diameter in inches. This corresponds to the diameter of the wheel the tyre is designed to fit. Also known as rim size. 
96: Load capacity index. The maximum load that can be supported by each tyre.
V: Speed index. the maximum speed capability of the tyre. In this example, the V is 240 km/h
The dimensions of your winter tyres or all season tyres must match those of your summer tyres, and the load index must be the same or higher. If you opt for a Wheel + Tyre package, you might be able to save money by choosing a smaller size—just make sure to check what is approved for your vehicle. You can also choose a slightly lower speed rating, which is better adapted for winter driving and generally less expensive. Again, check with your dealer to make sure you get the best option.
Use our tyre selector to explore the MICHELIN All Seasons line.
Can I choose a winter tyre with a tyre speed index lower than the one recommended by the manufacturer?
Yes, if the vehicle is equipped with winter tyres (marked M+S and 3PMSF), which have a speed rating lower than the maximum speed of the car, their fitting will be legally accepted, provided that a clearly visible sticker indicating the maximum speed of the tyres concerned is affixed in the driver's field of vision.
For example: on a car with a maximum speed of 205 km/h, tyres with a speed rating of H should normally be fitted. If winter tyres (marked M+S and 3PMSF) with a speed rating of T are fitted, a sticker indicating that the maximum speed is 190 km/h should be affixed.
Tip #3:
Choose tyres that suit your driving habits and local weather conditions
Discover our video tips to help you choose your winter tyres: 
Comparing the MICHELIN CrossClimate to MICHELIN Alpin 5
Articles you might be interested in