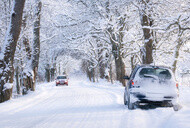 Winter tyres or 4 season tyres: which are better?
We know choosing tyres can be difficult, which is why Michelin is here to help. When winter arrives and road conditions begin to change, your summer tyres start to show signs of under performance. The solution? Winter or all season tyres. We have all the information to help you find the right tyres for you.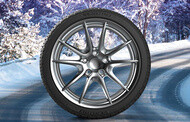 Winter tyres: What are your options?
In Europe, we offer two different types of winter tyres. 
Michelin's Alpin winter tyres are designed for use in Western Europe, where drivers face cold, wet and snowy conditions. 

Our Nordic winter tyres, available with or without studs, are suitable for driving in countries such as Scandinavia and northern Russia, where extreme weather conditions are common. These tyres are specifically engineered for use in temperatures as low as -40ºC and can be driven on ice. 
In the United Kingdom, our Alpin winter tyres are the most popular choice for drivers through winter, while our Nordic tyres are primarily used by those living in mountainous areas.
Our Alpin winter tyres: Pros and cons
The Alpin winter tyre is designed to offer optimal performance in temperatures ranging from +7ºC to -20ºC. These tyres are at their best on wet, cold and snowy ground, and can even be driven on icy roads. If you find yourself regularly driving in wintery conditions, Alpin is the perfect tyre for you.

The only limitation of these tyres is that once temperatures exceed 7ºC, their rubber begins to soften and the tyre becomes less effective as the tread wears away, leading to a loss of grip on dry ground or in wet conditions.
Consequently, if you choose to use winter tyres during the winter period, it is safer to swap them with summer tyres once the temperature begins to rise again.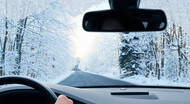 (1) Average difference in the braking distance of a winter tyre compared to a summer tyre. Braking distance on a wet surface from 50 to 0 mph. TUV SUD 2013 tests, using 205/55 R15, conducted betwwen 4C and 6C.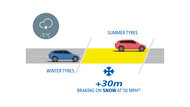 (2) Average difference in the braking distance of a winter tyre compared to a summer tyre. Braking distance on a snowy surface
from 31 to 0 mph. TÜV SÜD 2013 tests, using 205/55 R16, conducted between -4°C and -6°C.
 All season tyres
All season tyres, on the other hand, are hybrid tyres which can adapt to temperatures as low as -10°C and as high as +30°C. Their secret? They combine the features of summer and winter tyres to create a tyre which can drive safely at any time of year, no matter the conditions. In temperatures above 7ºC, all season tyres outperform winter tyres both on dry and soggy terrain, as well as being much quieter. Further benefits include not having to swap them throughout the year as is necessary with summer and winter tyres, saving you both time and energy.

Although all season tyres guarantee both safety and mobility when driving in the snow, they are not as effective as winter tyres, which remain the ultimate tyre where difficult driving conditions are concerned.
How much will it cost to fit my vehicle with winter or all season tyres?
Michelin Alpin 6 tyres, for example, come in 58 sizes. Search for prices online, or find your local dealer. 
Available in 50 sizes, the Michelin CrossClimate+ range offers all season tyres which, as seen in the tables below, are number one in terms of longevity. These versatile tyres combine the technology of summer and winter tyres to offer a high level of performance and safety in all weather conditions. Their hybrid nature makes them economic in the long term.  Search for prices online, or find your local dealer.
*Michelin tyre price
Relative performance of MICHELIN's summer, winter and all season tyres
Note: The stars reflect the level of indicative performance of the 3 types of tyres being compared.
The MICHELIN Primacy 4 and Pilot Sport 4 summer tyres perform best on dry and wet roads during hot weather. They have an excellent lifespan, as can be expected from the MICHELIN brand.
The MICHELIN CrossClimate+ tyres are an all season tyre which perform well in both summer and winter, even in snow. Their durability is on par with that of summer tyres, making them the leader in this category.
The MICHELIN Alpin 6 and MICHELIN Pilot Alpin 5 winter tyres are the best performing tyres for adverse winter weather, including snowy and icy conditions.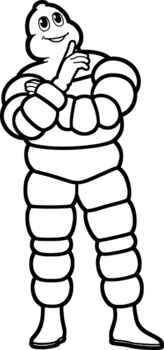 Winter or all season tyres: Tips on choosing what's right for you
The main element to consider is the kind of winter conditions you are likely to face with your vehicle.

If you regularly encounter snowy roads, have to drive in very low temperatures, live in or must often travel to areas which are difficult to reach in winter (steep slopes, unploughed roads, etc.), then the best option for you is to use winter tyres.
If, however, you only occasionally drive on snow-covered roads (either because you live in a region with minimal snowfall or because you take fewer than three ski holidays per year), then all season tyres are your best choice. If you were previously a winter tyre user, switching to all season tyres will spare you the bi-annual tyre swap, saving you both time and energy.