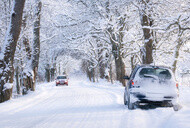 Winter tyres: let Michelin UK help you find SUV tyres for winter
Why should you fit your 4x4 vehicle with winter tyres?
In wintertime, roads are subject to ever-changing weather conditions, and you can run into rain, snow or ice at any time. For safe driving, vehicles are best when fitted with tyres that are suited to cold, slippery surfaces - and that goes for SUV and 4x4 vehicles, too. 
Winter tyres for 4x4s are designed to give you better grip, so that you stay in control of your vehicle when the road is slippery. Keep in mind that you should fit winter tyres on both the front and back wheels, even though most SUVs come with all-wheel drive. In 90% of cases, these vehicles can handle hills even with summer tyres. But you can run into problems when driving downhill, as the weight of the vehicle is at the front. So it's best to use winter tyres for driving in snow, even with a 4x4. 
Can you go without winter tyres if you drive a 4x4 vehicle or an SUV?
Whether you drive an SUV with front-, rear- or all-wheel drive, it is still advisable to fit your vehicle with winter tyres. Although having 4-wheel drive does give you better agility on snowy roads, it is no match for the performance you get with 3PMSF winter tyres or 3PMSF 4 season tyres in wintery weather, especially on roads covered with black ice.
If you have summer tyres fitted, you probably won't have too much difficulty when driving uphill. But going downhill you won't get any of the benefits of 4-wheel drive, which can be hazardous since 4x4 vehicles are heavier.
How much do winter tyres for a 4x4 or SUV cost?
Buying snow tyres for your 4x4 or SUV is a worthwhile investment in your safety and that of your vehicle. By shopping around, you can find the best winter tyres to suit your budget and your driving habits. After all, driving on mountain roads, dirt roads and major urban thoroughfares calls for suitable tyres.
In regions that don't get much snow, 4-season tyres give you the best grip on wet or slippery roads. The Latitude Tour HP tyre, which comes in 27 different sizes, delivers excellent performance at a competitive price. Driving on snowy mountain roads calls for winter tyres for your SUV or 4x4. The Alpin 6 with Michelin Evergrip technology is real value for money. This tyre has excellent results in terms of braking and acceleration on snowy surfaces, especially on slopes.