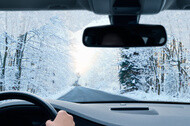 Why choose a winter tyre package?
When the temperature drop below 7 degrees, you can replace your summer tyres with a set of winter wheels, complete with rims.
Why should you choose them? The answers in our special guide.
What exactly is a winter tyre package?
A winter tyre package consists of a set of tyres combined with a set of rims (steel or alloy according to personal preference). It allows you to choose a set of complete winter wheels ready to be fitted onto your car each year to replace your summer wheels (rims + summer tyres). This option is a safer alternative to driving in difficult winter conditions. 
One way to reduce the cost of this package is to opt for a tyre size with a rim diameter approved for your vehicle, but smaller than the one that you use in summer. Winter tyres are generally more expensive than summer tyres, but opting for smaller tyres can help bring the price down.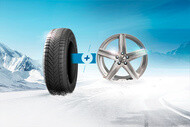 When fitting a Golf 7, for example, six sizes are approved:
195/65 R15 - 205/55 R16 - 205/50 R17 - 225/45 R17 - 225/40 R18 - 225/35 R19 

No matter your traditional tyre size, you can choose any one of these six sizes for your winter package, providing the load and speed index meet the minimum requirements of the car manufacturer. 
Winter tyres with a tyre speed index lower than that of the original tyres can also be fitted.
A 205/55 R16 91V summer tyre (maximum speed: 240 km/h) can, for example, be replaced by a 205/55 R16 91H winter tyre (maximum speed: 210 km/h) or by a 205/55 R16 91T (maximum speed: 190 km/h) winter tyre.
In Europe, if you choose this option, you must attach a sticker to your dashboard reminding you not to exceed the speed limit.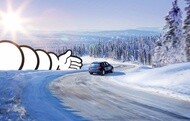 Tips for keeping your peace of mind while driving this Winter
By opting for a rims and winter tyres package, you're not only saving money, you're also saving time and avoiding stress thanks to the ease of fitting these tyres. The cherry on top? You get to create and personalise your new wheels yourself!
Where can I purchase a winter tyre package?
Search online or ask your local dealer about rim + winter tyre packages. Retailers may offer a choice of home delivery service or delivery to an authorised partner garage.
How much does a winter tyre package cost?
Although it requires an initial investment, fitting your vehicle with a complete set of winter tyres and rims saves you both time and money in the long run. Factors such as the size and model of rim will have an impact on the final price. A basic steel rim will cost less than an aluminium rim. These should ideally last the lifespan of your vehicle and should you decide to sell, they can add value to the worth of your car. It's the same for tyres: a basic winter tyre will be cheaper than a top of the line tyre. As with rims, the cost increases with the size of your tyres. You can get a quote by putting the model of your vehicle into a price simulator online or by enquiring in a specialised tyre shop.