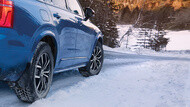 Winter is coming… When driving your SUV, you need to feel safe in the snow and on wet roads. For this, it is essential that your vehicle is able to provide sufficient braking and traction, even on the most difficult roads. By choosing the right tyres, you are opting for peace of mind.
What are the best snow tyres for SUV? Read our article to find out!
The best snow tyres for SUV are simply those whose winter performance has been tested and certified by the 3PMSF label. This label certifies that the tyre will perform well in winter conditions, on cold ground, at a temperature below 7°, and on snow
This means a better grip than you would get with a tyre that is not designed for these conditions. The rubber and tread pattern of 3PMSF tyres provide effective grip on cold, wet and snowy surfaces.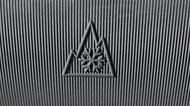 The 3PMSF symbol ("3 Peak Mountain Snow Flake") is visible on the tyre


All-season tyres for SUV
Unlike winter tyres, which are swapped with summer tyres when the weather gets milder, all-season tyres are designed to be driven all year round.
They also perform well in winter (as long as temperatures do not fall below -10°C) because they benefit from an extra performance on snow that is validated by the 3PMSF certification.
It is the case with the MICHELIN CrossClimate 2 SUV. This tyre also has excellent behaviour on wet roads, whether cold or not.
Sporty and non-sporty SUV winter tyres
For those who like sporty driving, Michelin has created SUV ranges for winter such as the MICHELIN Pilot Alpin 5 SUV which can equip your SUV and provide exceptional performance. This SUV winter tyre is very efficient on dry ground and also offers excellent traction on snow.
If you're not looking for sporty driving in winter, the MICHELIN Alpin 6 range will meet your expectations.
It is important to note that it is the size of your tyres that will determine whether you choose a sporty or non-sporty range. If one of these ranges is not available for your tyre size, then you should choose the other.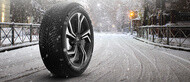 MICHELIN Pilot Alpin 5 SUV provides exceptional performance even for a sporty driving style
Tyres with or without the acronym "SUV"
Tyres designed for SUVs often offer greater rigidity to support the load of these vehicles which are heavier than most passenger cars. To this end, their sidewalls are reinforced with two carcass plies instead of one.
But you may have noticed that some of our SUV ranges, such as the MICHELIN Alpin 6, do not include the acronym "SUV" in their name. Why not?
This is because Michelin wanted to emphasise certain sizes as being more specific to SUVs, including in the winter ranges. This is why you can choose tyres that have been developed specifically for SUVs, such as the MICHELIN Pilot Alpin 5 SUV or the MICHELIN CrossClimate 2 SUV all-season tyre.
Therefore, the absence of the acronym "SUV" does not mean that a range is incompatible with your SUV! It can be fitted as long as your tyre size matches. And the performance will of course be the same.
You can find the tyre size on its sidewall or in the owner's manual of your SUV.
You can find the tyre size on its sidewall
Which SUV winter tyres to choose for extreme winter conditions?
If you live in a place where winter conditions are more extreme with snow and ice, then specialised ranges are preferable such as the MICHELIN X-Ice Snow SUV or the MICHELIN X-Ice North 4 SUV which is a studded tyre. These SUV winter tyres are designed to give optimum performance on snow or ice, even at very low temperatures.
Now that you have a clearer idea of the best snow tyres for SUV, find yours in our Tyre Selector :