Can I keep my winter tyres on in the summertime?
It can be tempting to keep your winter tyres on all year round, but is this really a good idea? Read this article to find out more about the rules and regulations on winter tyres, the comfort they bring you on the road, their safety features and how they can save you money. Here is all you need to know about driving with winter tyres in summer and all year round.
Why choose winter tyres?
Winter tyres, or snow tyres as they are sometimes called, are designed for the winter season thanks to their wide and deep grooves. This unique tread and rubber adapt to low temperatures and offer excellent road holding in cold weather, allowing you to drive with confidence no matter what the weather.
When can I use my winter tyres?
We recommend using your winter tyres (also commonly known as snow tyres) when the temperature begins to fall below 7°C.
Why?
When driving in winter conditions below 7°C, the braking distance of a winter tyre is generally shorter than that of a summer tyre on any type of ground (dry, wet, snowy, black ice) and the winter tyre offers better grip.
Do winter tyres wear faster than summer tyres?
Contrary to popular belief, for the majority of brands, winter tyres used in winter conditions do not wear out faster than summer tyres used during the summer months. Thanks to advanced technologies, Michelin's high performance winter tyres are guaranteed to last almost as long as their summer tyres.
Is it illegal to drive with winter tyres in summer?
In the United Kingdom, there is no law to say that you cannot drive with winter tyres during the summer months.
Likewise, there is no legislation making winter tyres mandatory when the season comes.
It is up to the driver to use tyres appropriate for the season, prioritising safety and comfort on the road.
3 reasons why it is not advisable to keep your winter tyres in summer
Summer tyres have a high level of safety on dry and wet roads when temperatures are above 7°C.
However, in temperatures below 7°C, certified winter tyres (marked with M+S and/or 3PMSF) are more effective than summer tyres in winter conditions. Summer tyres generally last longer in summer conditions than winter tyres.
Tests carried out by TÜV SÜD in 2013 with 205/55 16 H tyres.
The rolling resistance of a winter tyre is greater than that of a summer tyre of the same size.
By driving with winter tyres in summer, you will therefore consume more fuel and register greater CO2 emissions.
3 - For comfort
Switching your winter tyres for models suited to summer conditions and higher temperatures is a choice which is also good for driver comfort.
Summer tyres guarantee better road holding in temperatures in excess of 30°C, allowing you drive comfortably and safely.
What's the best way to protect my winter tyres during summer?
In temperatures higher than 7°C, you should switch your winter tyres with summer tyres.
sss
Before storing away your winter tyres for the summer, be sure to check their condition.
Cracked tyres lose their effectiveness, even if the wear limit has not been reached. Also remember to check the alignment of the tyres regularly.
You can find a professional service near you with our Dealer Locator
The advantage of the all-season tyre
The MICHELIN CrossClimate range is a certified 3PMSF all season tyre which provides an innovative solution to summer and winter tyres.
With the MICHELIN CrossClimate range you can drive safely both in summer and in winter, all without having to think about changing your tyres when the weather changes. These tyres are therefore the best option for drivers who live in temperate areas where the weather remains mild for the most of the year with the occasional cold snap.
Discover our ranges of summer tyres, all-season tyres and winter tyres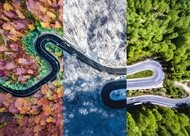 Other articles you might like