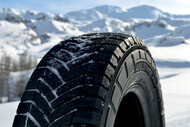 How to choose the best winter van tyres?
Choosing the right winter van tyres may seem complicated. However, there are a few criteria to consider and we tell you what they are in this article. 
What kind of winter are you facing?
To begin with, it is important to make the distinction between a mild winter and a winter with severe or extreme conditions. Why? Because the type of winter you experience will determine the choice of the right winter van tyres, the ones that will give you the best safety, mobility with grip and traction in the winter conditions you are exposed to when driving.
1 - Mild winter
You travel in a region that is subject to a mild winter when temperatures fall below 7°C and when snowfall is occasional. Winter van tyres adapted to these conditions will allow you to drive without difficulty on moderately snowy surfaces where summer tyres, less efficient in this context, would have exposed you to the risk of slipping and to a loss of control of the vehicle.
2 - Winter with severe or extreme conditions
You are travelling in a region that is subject to severe winter with frequent snowfall and ice. The roads are then difficult, slippery and expose your trips to greater risks that tyres must be able to cope with.

The acronym 3PMSF, which may sound mysterious to you, is in fact the official certification that a tyre has passed objective tests for safe driving in winter conditions. 3PMSF stands for "3 Peak Mountain Snow Flake".
This certification is essential for the choice of your winter van tyres as it guarantees their performance in winter and snowy conditions. It is symbolised by this logo which you will find on the sidewall of the tyre when it is 3PMSF certified.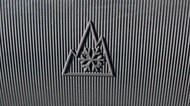 The 3PMSF "3 Peak Mountain Snow Flake" certification on the sidewall of a winter tyre
Below 7°C, a 3PMSF-certified tyre offers greater safety and shorter braking distances than a summer tyre on all types of ground.
What is the difference between the 3PMSF certification and the M+S marking?
The 3PMSF certification is issued by a certified laboratory. It guarantees the performance of the tyre in winter and snowy conditions, while M+S is a marking that indicates that the tyre is, according to European regulations, a "snow" tyre, i.e. a tyre whose tread pattern and structure imply better behaviour in fresh or melting snow or in mud than a classic road tyre. But unlike the 3PMSF certification, it is not tested in winter conditions.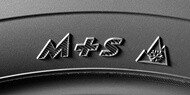 M+S "Mud + Snow" marking on the sidewall of a winter tyre
Which winter tyres for your van?
You now have the important information to keep in mind when choosing your winter van tyres. Of course, at Michelin we have tyres suitable for all the winter conditions mentioned above. All are 3PMSF certified.
Here are the three options for your van:
MICHELIN Agilis X-Ice North
The MICHELIN Agilis X-Ice North studded tyre, which is 3PMSF certified, is designed for all vans that have to operate in severe or extreme winter conditions, with frequent and heavy snowfalls and ice.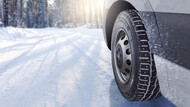 MICHELIN Agilis Alpin
This MICHELIN winter van tyre has been designed to provide optimum performance for light trucks and commercial vehicles in winter when snowfall is frequent and heavy. Certified 3PMSF, it offers excellent braking and acceleration on snow thanks to its "Stabilygrip" technology: self-locking and variable geometric sipes help to stabilise tread blocks and tyres. Also, a large square rubber surface area and a specific wear-resistant mixture of compounds maximises road contact and excellent durability. Its reinforced robustness can also withstand heavy loads and difficult conditions.


MICHELIN Agilis CrossClimate
The MICHELIN Agilis CrossClimate is a 4-season van tyre that has been designed to offer safety, longevity, robustness and traction for your peace of mind all year round.
It offers optimal braking on dry surfaces and excellent grip on wet surfaces. Certified 3PMSF, it also performs well in mild winter conditions with occasional snowfall. It provides good traction on difficult surfaces such as mud, grass, gravel or snow. Its reinforced robustness is designed to resist wear and impact.
The advantage of the MICHELIN Agilis CrossClimate is that it does not require a tyre change in winter and summer, which saves time and money. Provided of course that you do not drive in harsh winter conditions, you can keep it all year round.