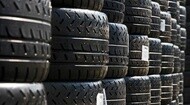 Tyre Storage - How to store tyres
Need to store tyres?
The experts at Michelin are here to provide a few tips on tyre storage to keep your tyres safe and ready to go during the off-season.
When should you store your tyres?
If your tyres are left outside, unused for long periods of time (one month or more), their surfaces will become dry and surface cracks may appear.
It is therefore recommended to store them in a cool, dry and clean indoor environment.
Winter tyre storage
When the outside temperature rises above 7°C, the rubber of your winter tyres softens under the effect of the heat. As a result, it wears out more quickly and your tyres become less efficient. This is why it is recommended to store your winter tyres and fit your summer tyres.
Summer tyre storage
Conversely, when temperatures fall below 7°C, the rubber of summer tyres hardens, resulting in a loss of handling properties. This is the time when it becomes necessary to store your summer tyres and fit your winter tyres.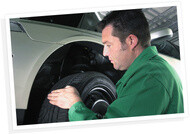 Before storing your tyres:
Before removing your tyres, note their position on your car. This will allow you to properly rotate your tyres next time you mount them to ensure that they wear evenly.
 
Inspect each one for damage or uneven wear.
 
Clean your wheels and tyres with water and dry them well to limit any corrosion.
 
Remove any stones or debris that have been trapped in the tyre grooves.
Where to store your tyres?
Store your tyres indoors in a clean, ventilated, dry, temperate and well-ventilated area, away from direct sunlight and the elements.
 
Keep them away from any chemical substance, solvent or hydrocarbon that could alter the nature of the rubber.
 
Keep them away from anything that can penetrate the rubber (metal tips, wood, etc.).
 
Keep them away from any source of heat, flame, incandescent material, equipment that can cause sparks or electric discharges and any source of ozone (transformers, electric motors, welding sets, etc.)
 
Keep them away from any object that could crush the tyres.
 
If you store your tyres outside (recommended for a short period only), lift the tyres off the ground and use an impermeable covering with holes to prevent the accumulation of moisture.
 
Make sure that the surfaces on which the tyres are stored are clean and free from grease, petrol, solvents, oils or other substances that could damage the rubber.
 
For aesthetic reasons, if your tyres have a white sidewall or raised white lettering, store them with the white sidewall or raised white lettering facing each other. Otherwise, the black rubber may stain them.
 
If the tyres are on a parked vehicle for a long period of time, they should be relieved of the weight of the vehicle. Either by lifting it or by removing the tyres. Failure to do so may result in irreversible damage.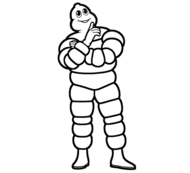 If you have enough space in your garage, you can store your winter tyres in stacks, making sure that they are not deformed and that they are preferably placed on pallets.
The height of the piles should not exceed 1.20 m.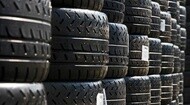 How to store tyres with rims
If your tyres are mounted on rims, store them standing upright, hang them up or stack them (two by two maximum).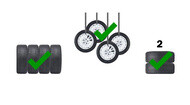 How to store tyres without rims
If the tyres are not fitted on rims, do not stack or hang them.
Store them standing up.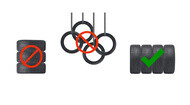 Summer and winter tyre storage near me
If you do not have enough space at home to store your tyres in good conditions, you should know that most dealers offer a storage service. 
You can find the closest one with our Dealer Locator :

Find the closest dealer
Search by
Address, City or Postcode
See other related articles